Slik Sprint Pro II 4-Section Tripod w/3-Way Panhead BK MPN: 611-863
Flyweight class tripod specifically configured for travel concerns, meant for use with very small SLR systems or with any form of point and shoot camera
20mm diameter upper leg segments, a quite practical 52" (132cm) working weight, and a collapsed size of just 18.5" (47cm)
Speed Release Lock levers allow for fast set up
Angled rubber leg tips maximize traction to flat, hard surfaces (and also allow carry on to aircraft)
True 3-way pan/tilt head, with each axis controlled by a distinct lock
The Slik Sprint Pro II is a flyweight class tripod specifically configured for travel concerns, meant for use with very small SLR systems or with any form of point and shoot camera.It has 20mm diameter upper leg segments, a quite practical 52' (132cm) working weight, and a collapsed size of just 18.5' (47cm).This is a tripod right at home on a backpack or on your shoulder (unpadded case with shoulder strap included), weighing only 2.42 lbs (1.1kg).
The Sprint series was designed to maximize your propensity to actually carry and use your tripod on vacation, without costing a ton.It is fast to put up and down, and will help make sharp images in the typical daylight conditions a traveler 'on holiday' can expect.
This particular version of the Sprint series has a 3-way pan/tilt head with quick release, for the photographer who prefers the exact and deliberate nature of a real pan/tilt head (as opposed to a faster, smaller, and less-exact ballhead).
Speed Release Lock levers allow for fast set up
3-Position leg locks allow for leg openings of independent angles
Angled rubber leg tips maximize traction to flat, hard surfaces (and also allow carry on to aircraft)
Foam covered upper leg sections ease handling in extreme weather conditions
True 3-way pan/tilt head, with each axis controlled by a distinct lock
Detachable 2-part center column and independent leg spread allows great minimum operating height
Maximum upper leg diameter of 20mm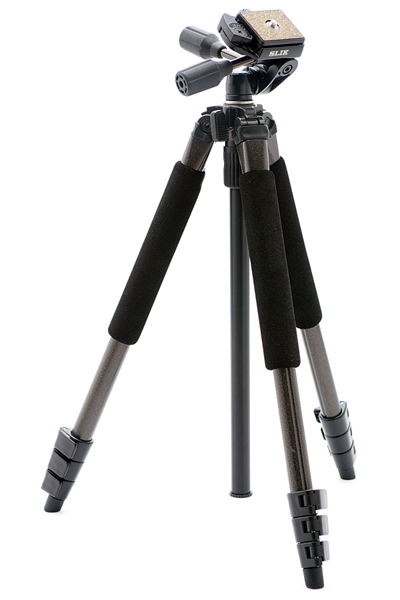 Maximum Height 63.9' (162.2cm)
Maximum Height w/o Column Extended 52.0' (132.2cm)
Minimum Height 7.0' (17.7cm)
Folded Length 18.5' (47.0cm)
Load Capacity 4.4 lbs (2kg)
Leg Sections 4
Leg Lock Type Flip lever Independent
Leg Spread Yes
Center Column Sections 2
Center Column Type Sliding
Center Brace No
Spiked Feet No
Head Type 3-Way pan/tilt with quick release
Head Mount Thread Size 1/4'-20
Weight 2.42 lbs (1.100kg)
---