SLIK MINI II Tripod MPN: 611-201
The new Slik MINI II 'table-top' tripod is the successor to the popular and long-lasting MINI tripod. The MINI II has improved ease of use by adding Slik Speed-Release leg locks which are faster and easier to operate than the traditional twist-lock legs. Also there is a built-in bubble-level to help level the camera for the perfect shot. The MINI II is just 8 in. when completely collapsed making it easy to carry in a camera bag or tossed in almost any sized suitcase. The tripod comes with a Slik 2-way pan head that has independent pan and tilt locks. The camera can be locked in one direction, but still move in the other direction. The 2-way pan head is great for taking video with a compact digital camera or following a moving subject. Legs extend approx. 1.5 in. to give the camera more stability. Also there is a suction cup at the bottom of the center column to temporarily adhere to glass or other very smooth polished surfaces.
Please Note: The suction cup will not hold up cameras weighing more than 10 ounces ! Check your camera's specification to learn its weight. Be sure the surface is clean before trying to adhere and SLIK MINI series tripods to any glass surfaces! Do not leave the SLIK MINI stuck to any glass surface for more than 60 seconds because the weight of the camera could cause it to fall.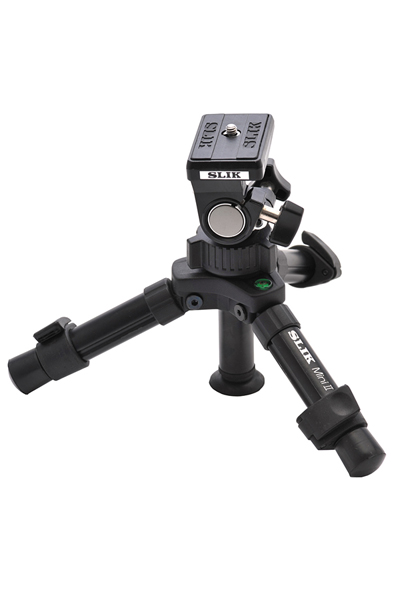 MINI II ( 611-201 )
Maximum Operating Height:    8.66 in. / 220 mm
Minimum Operating Height: 7.90 in. / 200 mm
Maximum Center Column Extension:    1.75 in. / 45 mm
Folded Length:    7.90 in. / 200 mm
Weight:    0.71 lbs. / 330 grams
Number of Leg Sections:    2
Leg Lock Type:    Twist Lock
Maximum Load:    2.75 lbs. / 1240 grams
Warranty:    3 years
---